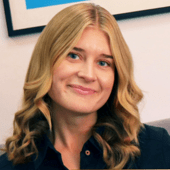 Linnea Josefsson
Talent Acquisition Partner – Human Resources
Why did you want to join Lumera?
I wanted to join Lumera because I got a warm and including feeling from every employee I met during the recruitment process. I also appreciate being a part of a midsize company, where you are able to get to know almost everyone in the organization and affect the work, combined with that you still get to meet new people often and a lot of exciting things happening.
What is your work day like at Lumera?
I work in the HR-team with a focus of recruitment and onboarding here at Lumera. My days are almost never the same, but a typical day starts with a walk and talk with my team members followed by interviews, daily syncs with recruiting managers and meetings with our employees at Lumera. It's a very social work environment which fits me very well.
What is the most developmental aspect of your job?
I get to learn new things everyday by working close with our R&D department and of course the HR team.
How would you describe Lumera as a workplace in just a few words?
Welcoming, open and helpful