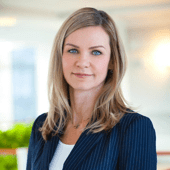 Caroline Aldenroth
Client Services Manager – Lumera Sweden
What is your work day like at Lumera?
During my days at Lumera, I work with coaching 15-20 driven and competent employees. I have a constant dialogue with them about their work situation, well-being and personal development. I also work actively with staffing and recruitment of new employees.
What is the most developmental aspect of your job?
Through my leadership enable employees, to with the right skills and commitment, be able to deliver and grow with Lumera.
How would you describe Lumera as a workplace in just a few words?
We are competent, committed and inclusive.
What's the best thing about working at Lumera?
There is a lot to learn and great opportunities to develop through different roles and career paths. Lumera is a flat organization with an unpretentious work climate and a great willingness to help and teach each other. We have a good corporate culture with many wonderful colleagues - we have great fun together! And the absolute main reason is that it always feels fun to go to work.