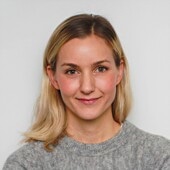 Elin Malmberg
HR Business Partner – Human Resources
Why did you want to join Lumera? 
My very first impression of Lumera was a good one. It felt professional and familial at the same time and I was impressed by the high level of competence that exists in the company. The combination of sustainable and stable products in a fast-paced organization with short routes to decision-making attracted me. Not to mention how cool it is that we're the market leader in what we do!
What's the best thing about working at Lumera?
That you develop every day. There is always something new to learn and everyone shares their knowledge and is incredibly helpful. It is also clear that employee ideas and suggestions are utilized. There is a commitment that shines through everything we do, and I believe this is the result of good HR policies, an open climate and challenging tasks. We have a very positive and welcoming atmosphere in the office, which means that I always enjoy going to work.
My role?
I ensure that our recruitment processes continue and that we find the right staff for our business. I also work on reaching out with our employer brand to clarify who we are and what we stand for, both externally and internally. 
My work days can be very different and I enjoy that variation. I have control over my days and can plan my work the way I want to.
Would you like to know more about Lumera and the roles we have on offer? Give me a call. I'd be happy to tell you more!