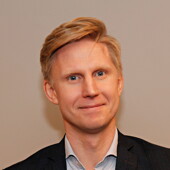 Jonas Pedersén
Solution Architect – Lumera Sweden
Why did you choose Lumera?
I chose Lumera, because I had met many competent people working at Lumera and was interested in becoming part of such a competent company myself.

What are the highlights of your workday?
When I feel that I help colleagues or customers in their work and contribute with my skills.

What is the most interesting thing about your work?
The challenges we face at work, for example in a project with a new customer, we always face new complicated questions. I like when it gets complex, and we always find a way together to make our customers happy.

What are you most proud of in your work at Lumera?
It's a difficult question to answer. I think that I'm most proud of the fact that I feel appreciated by both my colleagues and by the key people at the customer that I work with.