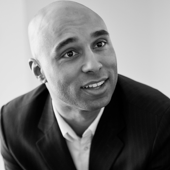 Sallo Bah
Key Account Manager Sweden – Marketing
Why did you want to join Lumera?

I want to be where it's happening and insurtech is an area where that's the case. I was about to move home from the US and heard that Lumera was one of the most interesting insurtech companies in Sweden so I contacted them.
What is your work day like at Lumera?
My days are often challenging and fun. I get to work with customers, partners and colleagues to develop an offer around our SaaS service. There are a number of e-mails and a lot of meetings and conversations with the purpose of gaining the insight required to set up an offer that is relevant for Nordic pension companies.  
What is the most developmental aspect of your job?
The fact that we are breaking new ground, dare to lead development and are encouraged to think outside the box.
What's the best thing about working at Lumera?
That the level of ambition and vision are sky-high. That we are forward-thinking and create significant value for our customers who themselves ultimately make a significant contribution to society.
How would you describe Lumera as a workplace in just a few words?
Fun, challenging, exciting.