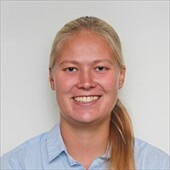 Veronica Randleff
System Developer – Research & Development
Why did you want to join Lumera?

After graduating from the Royal Institute of Technology, I was looking for a workplace where I would have the opportunity to be challenged and to develop. At the same time, I wanted a workplace where it would be possible to have a good work-life balance. Even in the recruitment process, I got the impression that Lumera was a company where I would be really happy, and now I know for sure! I also felt it would be exciting to be involved in creating such a complex, long-term system.
What is your work day like at Lumera?
I usually come in at 9 o'clock and pretty much start right away with the programming task I was working on the day before. At 10, my team has a daily meeting where we talk about what we are doing right now. Then I spend most of the day on different programming tasks. Sometimes we have meetings or I have discussions with colleagues to help clarify tasks and to better understand needs. There is always a great team spirit at Lumera and we often discuss how we can help each other when we get stuck or when we need to bounce ideas.

What is the most developmental aspect of your job? That I get a lot of interesting tasks that constantly challenge me and force me to learn new things. I'm also surrounded by nice, helpful colleagues who make my work day even better!