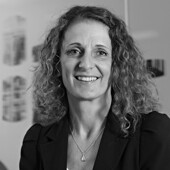 Anna Fulke
Head of Center of Expertise – Center of Expertise
What's the best thing about working at Lumera?

The best thing about Lumera is all our competent, motivated and friendly colleagues, who are passionate about what we do and what we deliver. It is also exciting that we work long-term with our customers on something that affects everyone in Sweden and is important to them.
What is your working day like? 
It varies a great deal from day to day, which is fun. There is usually a mix of customer meetings, activities for developing the business, recruitment, discussions with different people at Lumera and naturally, chats at the coffee machine.
How would you describe Lumera as a workplace in just a few words? 
Lumera is definitely characterized by motivation, expertise, open-mindedness, a pleasant atmosphere and drive. This is part of what makes it fun and exciting to work here.
Good leadership, what does it mean to you? 
As a manager, I try to lay the foundation that will enable us to efficiently help our customers, contribute to employee growth and development, and give direction to our department.