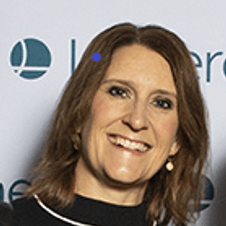 Jenny Dennemark
Head of R&D – Research & Development
Why did you want to join Lumera?
Earlier during my career, I had worked with our CEO Mats Lillienberg and when he told me that Lumera was on an exciting internationalization journey and that it would be a fun ride, I thought it sounded really interesting! Also, Thomas Bill and Peter Larsson who are on the Lumera board, used to have management positions in my previous company. I therefore knew that they had experience of driving a product company, which felt reassuring. Previously, I had worked with product management in the financial industry for 20 years and I knew that I wanted to continue being part of driving an advanced product forward. The Lumera product felt like the right type of product for me. Also, the Life and Pension industry is close to the financial industry, but the change still gave me an opportunity to learn more about a new area.
What is your workday like at Lumera?

It is very diversified but contains a high degree of meetings with, or presentations for, different constellations, customers or prospects, architects and developers, and other internal departments like sales or Product Portfolio. During the meetings we discuss how to progress on our strategy and how we can develop our product further in the desired direction, while at the same time maintaining happy customers. I am managing our Infra team which is responsible for all platform related development, and we are focusing on strategic initiatives strengthening our core solution. We work together in the office on a regular basis, but there is also a flexibility to be able to work from home parts of the week when that is more efficient.
What is the most developmental aspect of your job?

The Life and Pension area is a complex industry under change with great demands on digitalization, agility, and support for new technology. It is an exciting period both for the industry and the company Lumera. This all means that I get to explore and be responsible for a lot of things that are new to me and sometimes a bit out of my comfort zone, which really is quite developing. I enjoy working with a lot of intelligent colleagues and having interesting discussions with customers and prospects.
How would you describe Lumera as a workplace in just a few words?
Friendly, transparent, helpful, fun.
What do you do when you are not working at Lumera?
I really enjoy training! I primarily do strength training and have a green-blue belt in taekwondo. I like to spend time with family and friends; we often train together or go on walks! Besides this, my children's school is run as a foundation, and I am chairman of the board, together with some other parents and the school management team. It is fun to get a better understanding of how a school is run and challenges that appear.