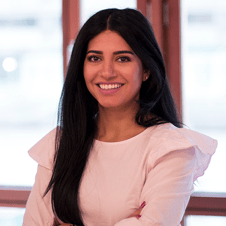 Siradj Sabbar
Head of Portfolio – Product Portfolio
What's the best thing about working at Lumera?

The best thing about Lumera is that there are major opportunities for development and that it is a driven organization with many skilled and experienced colleagues. You have the opportunity to go in the direction you're passionate about and can advance if you want.
What is your work day like at Lumera? 
It's very varied and that's what I think is fun and rewarding. In general, half of my day is spent with customers discussing product development and configuration, and the other half is spent in the office, where I have daily follow ups with a development team and investigate different solutions to very complex problems. There are a lot of customer contacts and internal meetings, which means that I meet very different people from whom I learn a lot.
What is the most developmental aspect of your job? 
Different customers have different needs and it is developmental to create new solutions all the time. I learn a lot from our customers, colleagues and the industry every day.
How would you describe Lumera as a workplace in just a few words? 
Lumera is a driven organization with an incredibly strong and positive corporate culture. We have many committed and helpful colleagues who themselves like to develop and enjoy developing our customers.